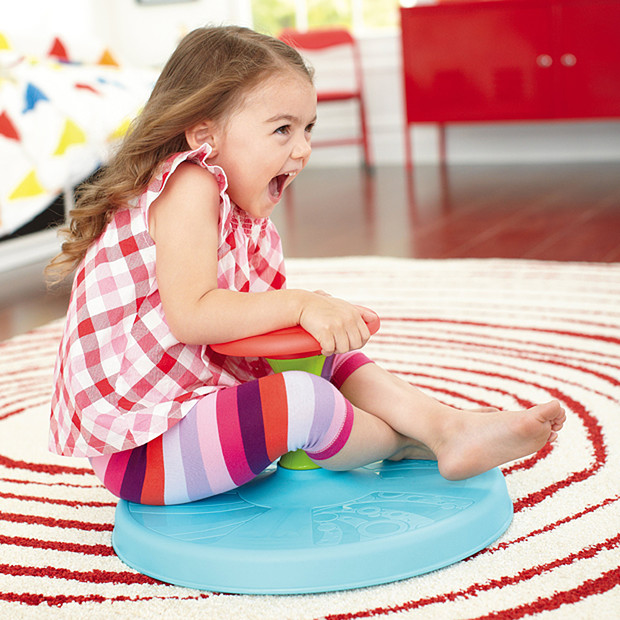 How are you? That was the subject line of an email we sent over the weekend asking that very question.
We wanted to know how you're doing in the time of coronavirus and to gauge your interest in continuing information on this overwhelming topic.
Here's why…
As news consumers, we're bombarded by so much information. It's coming from every direction — from our Facebook feed to our local newspaper. Much of it is questionable at best. Some of it is downright dangerous.
I personally have to limit my consumption of information or go on "news fasts" a couple of days a week (typically weekends) or I risk becoming completely paralyzed by it. My brain shuts down and I end up just sitting and spinning… kind of like that kids toy that was so popular in my youth.
I remember sitting and then spinning around on that thing like a lunatic only to hop off and promptly hit the pavement because I was so dizzy. Good times! But I digress…
As someone that spends "a lot" of time researching and investigating… I've never experienced the incredible level of information, opinion and anecdotes that parade as news as I have during the last 3.5 months.
It's reached a fever pitch!
While I was sick with COVID-19 in the early part of April, I stopped reading and watching anything that could be considered news related. When I wasn't in bed sleeping from the intense fatigue, I wiled away the days with comedy shows and slapstick movies.
I was already experiencing chest pain and shortness of breath due to coronavirus… I didn't need to pile on by ramping up my own anxiety!
The reality is that many of us are worried and anxious right now. In fact, a survey by the American Psychiatric Association found that nearly half of Americans suffer anxiety about the possibility of getting coronavirus, and 40 percent worry that they will get seriously ill or die from the virus.
An overwhelming 62 percent fear for the lives and health of their loved ones as the virus continues its spread. And with the daily mounting number of deaths across the nation, it's easy to see why.
But how does this track with the survey I sent over the weekend?
A full 32 percent of respondents indicated they're very concerned about contracting COVID-19, and another 47 percent said they are somewhat concerned. That means almost 80 percent of those we surveyed indicated some level of concern about contracting the virus. Only about 20 percent indicated they are not at all concerned.
Only 25 percent of people who took my survey indicated either they or someone they know has had and survived COVID-19. And 12 percent were unsure — which certainly tracks with the many stories I've heard from people all over who believe they had it at some point before the proverbial "poop hit the fan."
The fact that 64 percent of respondents have not had any personal experience with the virus but that 8 out of 10 are expressing concern says to me that most people are taking this pandemic quite seriously.
Thankfully, a full 85 percent of people that responded do not know anyone who has died from COVID-19. But sadly, 15 percent of respondents do. My sincere condolences to you. If we were to extrapolate that across just the U.S. population… that would amount to approximately 49 million people who know someone who has died.
Think about it… this means a rather large swath of the population has, thus far, been spared from the personal effects of this scourge.
But the vast majority of respondents are using this pandemic as a reason to make attempts to improve their health… 49 percent are making some attempts and 45 percent are making significant attempts. That's 94 percent!
To that I say congratulations, that is music to my ears. Especially considering 46 percent of you said you had a pre-existing condition that puts you at higher risk should you contract the virus.
A full 64 percent of you said you are highly likely to wear a mask in public places… and another 19 percent said you are somewhat likely. Only 16 percent said they will not likely or will refuse to wear a mask in public.
Early research I'm seeing is concluding that due to viral load — the actual amount of the virus you are exposed to — masks could keep people who wear them from getting the more extreme cases of the virus. That would indicate that mask wearers who contract COVID-19 would more likely be asymptomatic or show milder symptoms.
Now, this brings me to a question that is absolutely more divided and honestly one I'd love more insight into… but I will give you my thoughts. That is the question of vaccines…
The question I posed was: If made available, will you get a COVID-19 vaccine?
39 percent said no. 32 percent said not sure. 29 percent said yes.
I'm not surprised by this split. The idea of a vaccine is confusing. Although I'm not anti-immunization per se, I do have my concerns about this one. If I was answering this question right now, I would have to say "not sure."
That's because the speed at which this vaccine must come to market will be blazingly fast compared to how long it typically takes to develop, fully test and ultimately make a vaccine safely available to the public.
As well, due to the newness of this virus, there is still so much we don't know about antibodies and how long they actually last (recent research I'm seeing says somewhere between a few weeks to a few months). At this early stage, it already appears that more than one immunization will be needed for it to be effective for any length of time.
But time will tell…
So, I can understand the concern surrounding this question. Scientists, doctors, pharmaceutical companies and governments will have much to do to alleviate the concern of citizens before a majority is willing to pull up their sleeve for this one.
Is it time to venture out? Well, let's see what you think…
Roughly half of respondents felt that to some degree the curve has flattened. With this, I'd have to respectfully disagree — with cases rising in most states across the country, I'd say now is certainly not the time to throw caution to the wind.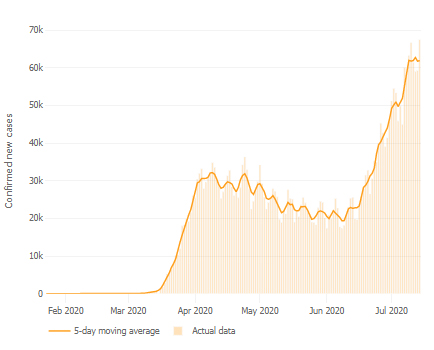 And for those living in states and areas that are stable or decreasing, I'd suggest staying mindful of the fact that with just a few unfortunate events (like the now popular COVID parties, where young people tempt fate), the numbers could start heading right back up.
Nearly 7 in 10 people felt we were either already experiencing a second wave of the virus or would by the end of summer.
Understanding waves for a virus can be confusing. A "second wave" would indicate that the initial first wave of cases would have dipped down to increasingly lower and lower levels before another uptick… that would ultimately look like a wide, shallow U. Instead, it looks like the image above that shows a steady increase that somewhat plateaus before starting a distinct upward climb.
All the research I've read indicates we (America at least) are still in the first wave.
And that upward climb is simply due to the increased level of activity in the U.S. population. The weather is warm, the sun is out and people are sick of months of stay-at-home and social-distancing orders.
It makes perfect sense; we are social creatures. But it ultimately means if we are to beat this thing, we're going to have to proceed with caution — wear a mask inside public places, wash our hands, break the habit of touching our face, try to fraternize with our own family unit or friend group and avoid large gatherings and crowded places where we can't maintain a safe distance, especially indoors.
This does not mean you must be a prisoner in your own home, or that you can't do things you enjoy (unless they involve large groups of people crammed into a room, then I wouldn't do them), it just means take the necessary measure of caution when you do.
This won't last forever.
Be safe out there… and thank you to the readers who took the time to fill out my survey.
As my way of saying thanks, I'd like you to have a free copy of an informative report on the benefits of Vitamin C from my colleagues at Easy Health Options®, it's called The Awful Truth about Vitamin C. Just Click Here and you can start reading it right now.