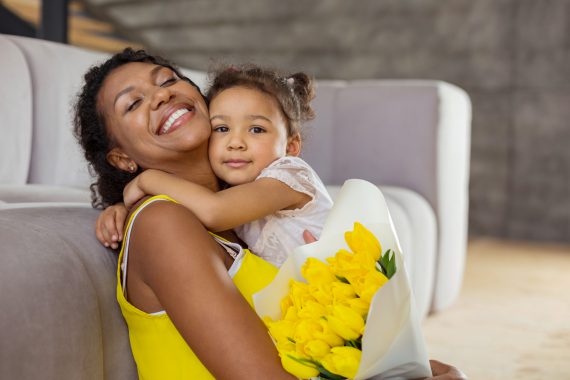 If this were any other Mother's Day, we'd have big plans for mom's special day coming up this weekend.
Normally, my hubby would have filled our house with flowers and he and the kids would have selected numerous cards each to give me that morning.
I don't know how we got into the tradition of giving multiple cards (one funny, one serious, one from the pets, etc.)… but it's always fun to see what they come up with. It's actually become quite a competition.
And he'd have already secured brunch reservations for our whole family at my mother's favorite restaurant.
I would have then cooked a late dinner and invited all the other special moms in my life and their families to join us. The adults would have shared a glass of wine and talked while the kids played in the pool.
But clearly this year our normal traditions are mostly out the window…
And it might be downright impossible to celebrate with moms who don't live with us, moms who live in 55+ communities and moms in nursing homes or assisted living facilities due to the incredible risk they face.
So to make this "socially distanced" Mother's Day just as special as all the rest, we're going to have to think outside the box.
Here are 9 ways you can do just that, and keep both of you safe…
Many of these are simply the "virtual" version of things you may already enjoy doing together. In fact, some are things you might never get to do together in real life, but can enjoy together virtually.
If she's itching for travel and culture:
1. Travel the world together… virtually. Of course, planning a trip will have to wait. But here are 52 places you can visit virtually. From Washington D.C.'s cherry blossoms to the beautiful island of Sicily.
2. Attend a virtual concert or show. So many orchestras and theatres are offering virtual versions of what would have been live performances. There are so many, it's hard to pick! Here's a list to choose from, including theme parks, if that's your mom's cup of tea!
3. Visit a museum… virtually. Likewise, the world's great museums, including the Louvre, the Smithsonian and Boston's Museum of Fine Arts, are offering virtual tours of their collections this spring.
If she's more of a homebody:
4. Share a special meal together. If you live within driving distance of your mom, you could drop off her favorite homemade dish along with some table decorations. Then, on Mother's Day, you can eat together virtually via video call or on the phone.
5. Enjoy nature together. Getting outside is extra important to our mental health these days… even if it's just for a walk around the neighborhood. If you live anywhere near your mom, you could try taking a walk together on opposite sides of the street.
Or, if you're not nearby, consider sharing one of these 8 virtual garden tours from around the world.
6. Watch her favorite TV show or movie together. Many major TV stations are offering full episodes of their shows for free right now on their websites. Or, get Mom a Netflix subscription and watch her favorite movie together, even if you're apart.
7. Read a book together. If your mom is a reader, like mine is, you could each read aloud a chapter or portion of a book she's reading, or an old favorite. You can certainly do this virtually as easily as in person. For me, this is a winner. My mom and I connect over books, discussing characters, what we like or don't like about the author, etc.
Personal greetings:
8. Go big with your greetings. If you live in the same area, make some big Mother's Day signs or giant cards and stand outside her home. You could sing to her, too!
This is especially good for moms who may be in care facilities where visitors are not allowed because of fear of spreading the coronavirus. Your signs displayed outside Mom's window may be seen by other moms… and may bring them cheer, too.
I have a friend who visits her mom this way regularly. Not with a sign, but by standing at her window and then talking to her over the phone.
9. Send flowers. This is a common Mother's Day gesture. But if you're not living with your mom right now, it will be even more appreciated.
To all the mothers out there, I'd like to wish you a safe and blessed day. To all the moms that are working on the frontline of this crisis I'd like to offer you my sincere thanks.
And to all the families suffering the illness, hospitalization or death of a family member, you are — and will remain — in my prayers.