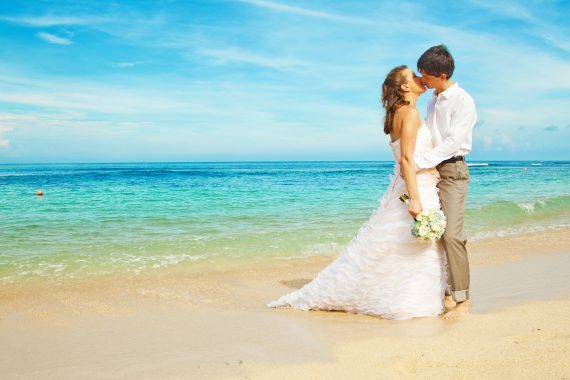 A very good friend of mine's mother passed away about a year ago.
One moment she was socializing and drinking wine with her adult daughters in the kitchen… the next she was gone.
Her daughters left the kitchen to get something from another room and were gone maybe 5 minutes. When they went back into the kitchen to show their mother what they'd retrieved they found her unconscious on the floor.
She passed away several days later after doctors determined there was nothing more they could do.
My friend and I were talking the other day and she told me her sister called to tell her she'd had a dream about their mom. In the dream, their mother appeared and told her daughter, "I know you feel guilty, but please don't. He said it was time to go, so I went. It was very peaceful, and I'm OK."
My heart breaks for my friend and her sister because it's not unlike something I also experienced.
Only it was my grandmother that passed.
It was the early 90s and my husband and I were about to get married.
A week before our wedding, I spoke to my grandmother on the phone to make sure she was ready to fly to Florida and to ask whether there was anything else she needed to make the trip south.
As was typical for my grandmother, she'd been packed for weeks and had all her travel documents laid out on the dining room table.
All her prescription medicines were ready to go, and her cosmetic bag was packed with her staple… Pond's® cold cream.
I swear in her 83 years of life, water never touched her face. It was Pond's or bust! And she had the skin to prove it. My grandmother was one of those elegant, stylish women you see in old movies and television shows. Donna Reed is who immediately comes to mind.
I have distinct memories from childhood of her coming down the stairs in the morning in her nightgown, matching robe and gold Daniel Green high-heeled slippers… not a hair out of place. Her skin smooth and glowing from all that Pond's®.
As I'm sure you can tell, I absolutely adored her, and I spent a lot of time as a kid with her and my grandfather on their farm.
I could regale you for hours with stories of that time in my life. My grandfather was very frail due to severe rheumatoid arthritis, so my grandmother seemed larger than life while caring for him and her older sisters.
She was a true inspiration.
After a nice chat, my grandmother and I hung up, and I went about planning for the wedding… doing all the last-minute things required for our big day.
The following day, my mother received a phone call from my grandmother's neighbor. She hadn't seen my grandmother at all that day. She hadn't come out to pick up her newspaper — which was simply unheard of for her. My grandmother spent nearly every morning drinking coffee and reading the newspaper on her porch, weather permitting.
Worried, her neighbor (a nurse) went to the house to check. When she didn't get an answer at the door, she let herself in with her emergency key. She found my grandmother dead on the floor in her bathroom.
My grandmother had a heart attack and died the week before my wedding.
Instead of her flying to Florida, we flew north for her funeral. My soon-to-be husband was left to muddle through all the last-minute wedding details.
I was devastated, and I'll spare you the rest of the story that includes our time up north and her funeral, etc.
I flew back into town Friday, the day before our wedding… as did all the rest of my family… aunts, uncles, cousins… the works.
We arrived in time for our wedding rehearsal and rehearsal dinner.
This time in my life was truly surreal…
To go from joy to sadness to joy again in a matter of one week.
The morning of our wedding I was exhausted, but I got myself out of bed early to have my hair done. My hairdresser, whom I'd known for about a million years, was running late as usual. So, I waited outside of his shop that was on the bottom floor of a large office tower.
As I waited, leaning against a wall, wedding veil in hand and ready to drop from exhaustion, a security guard came around the corner and walked straight up to me with purpose. His beeline in my direction actually startled me and I wondered if I was doing something wrong.
As he walked up, I said "Hi, everything OK?" He came closer and said, "Are you getting married today?" I said "Yes, I'm just waiting for the hair salon to open."
The next thing he said to me is tattooed in my memory. As I stared at the name tag on his shirt in complete disbelief he said, "You are going to be the most beautiful bride and have such an amazing day. I know it."
On his nametag was my grandmother's last name.
I was stunned, and I managed to say "thank you" but honestly not much else. He walked away and then around the corner. Not too long after that, my hairdresser arrived. I asked him if he knew the security guard and I described what he looked like. My hairdresser said, "No, that doesn't sound like any of the guards I know that work around here."
After my hair was done a couple of hours later, I walked around the building looking for the guard, but no luck. And that was that. But you know what, he (or better yet "she") was right… it was one of the most amazing days of my life.
But that leads me to something important… my family has a heart curse.
My grandmother died of a heart attack. So did both of her brothers. Her brothers were both young — under 60 when they died.
My mother had a stroke that left her blind in one eye when she was about my age. And then she had a quintuple bypass a little over 10 years later — the year my oldest son was born. Her cholesterol has been well over 300 all her adult life.
I loathe explaining my family history to doctors because they freak out — to put it mildly. And it's led me to take a special interest in cardiovascular issues as a natural health researcher. And why the line of nutritional supplements I've developed has so many options for ailments of the heart.
That's why this new coronavirus has me completely heartbroken. The implications for folks with underlying cardiovascular conditions are startling to say the least.
According to an article published by the American Heart Association, it appears elderly people with coronary heart disease or hypertension have a higher rate of infection and develop more severe symptoms.
In plain English, that means they are more likely to catch this thing and get sicker and die than seniors without this risk factor.
Initial reports show that a full 40% of people hospitalized due to the virus have an underlying cardiovascular or circulatory risk factor, according to a bulletin published by the American College of Cardiology (ACC).
Although different areas of the country, and ultimately the world, are experiencing different levels of viral activity, The Centers for Disease Control (CDC) is advising those most at risk stay home, avoid crowds and limit contact with others when possible.
Orly Vardeny, a core investigator at the Minneapolis VA Health Care System, an associate professor at the University of Minnesota Medical School and an adviser to the ACC, explains why…
The virus's main target is the lungs. A diseased heart must work harder to get oxygenated blood throughout the body, so the virus taxes the whole system. This can exacerbate problems for someone that's already having problems pumping blood efficiently.
She goes on to explain that someone with an underlying heart issue also might have a less robust immune system and that your immune system weakens as you age… so older people's ability to respond is already decreased.
That explains why when an older person or someone with an underlying condition gets sick it lasts longer and causes more problems like pneumonia.
Vardeny goes on to explain that the coronavirus also may pose a special risk for people who have a fatty buildup of plaque in their arteries. Evidence indicates similar viral illnesses, like flu, can destabilize artery plaque that could result in a blockage of an artery feeding blood to the heart, putting patients at risk of a heart attack.
That's why I've put my own mother, who is in her early 80s, in a (hopefully) temporary timeout.
As you can see from my previous explanation of our family's heart history, I want to make doubly (even triply) sure she is not exposed.
She's been mostly compliant and stayed in the house, but every so often hints that she "needs to run out to get some things."
I've been doing her grocery shopping, but I'm sure she's made some trips she's not telling me about.
That's why I've also insisted she take a safe amino acid called ethylenediamine tetra-acetic acid (EDTA) — found in baby food and approved by the FDA for use as a food stabilizer for fats, oil, vitamins and more.
But here's the thing, EDTA can also help block calcium and cause vasodilation (relaxation of the blood vessels). This helps to support the removal of plaque from artery walls and shuttle it out of your body through urine.
She's also taking the antioxidant resveratrol, which is known as the "French Paradox" nutrient because it's found abundantly in the skin of pinot noir and muscadine grapes used to make red wine.
Harvard University and the Mayo Clinic have shown resveratrol can help support the life of healthy genes and help support the elimination of sick genes that accelerate aging. Resveratrol also supports nitric oxide production, which aids in vasodilation.
Are you starting to see why I'm making sure my own mother takes these two important nutrients to support a healthy heart, arteries and circulation during these unprecedented times?
You too should consider adding some extra heart protection to your daily health and wellness strategy at a time when you need it most.
This week the number of people with confirmed cases of COVID-19 is expected to skyrocket. We're already seeing the devastating impacts this virus is having on people in Italy and Spain… New York is expected to follow their trajectory.
It's growing increasingly urgent that you follow the recommendations of the CDC and WHO and isolate, limit travel and avoid large crowds in addition to handwashing and sanitizing things you touch frequently in your own home.
Here are a couple of additional recommendations from the American College of Cardiology for those who have a cardiovascular risk factor…
Remain current on all vaccines, including flu and pneumococcal, to decrease the secondary risk of a bacterial infection should you get COVID-19.
If possible, substitute in-person routine doctor visits with telephone or telehealth visits to avoid possible contact with sick patients in the office.
Speak up! If you have an underlying risk factor (cardiovascular, diabetes, lung condition, asthma, suppressed immune system) make it known to anyone you deal with, especially health providers, so special precautions can be made.
And remember, this thing is going to get worse before it gets better as widespread testing ramps up.
Stay safe and close to home until we've fully turned the corner and no new cases are announced.
As always, you're in my thoughts and prayers. We're here for you… answering every phone… fulfilling every order… and shipping every package.
Also, it warmed my heart when major grocery store chains started to announce shopping hours for seniors. These hours are early in the morning. In addition to cleaner stores, this will also mean more abundant supplies. If possible, I'd still recommend enlisting someone younger to shop for you or grocery delivery. Instacart is one reputable grocery delivery company that immediately comes to mind.