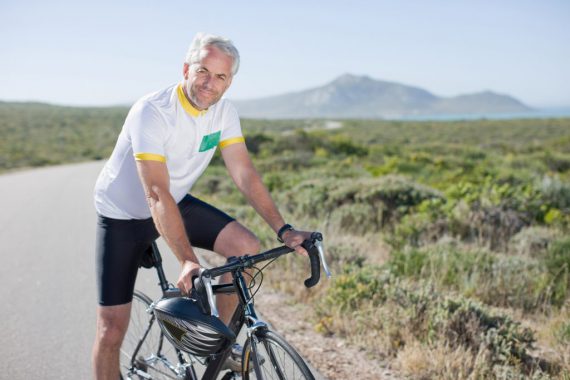 I lived with a miserable problem for almost a year before I worked up the nerve to do anything about it. Instead of talking to my doctor or my husband about it, I just opted out of anything that might trigger an embarrassing situation.
If my kids wanted me to play with on them on the trampoline, I suddenly had to attend to something in the house. When my best friend wanted me to go running with her like we used to, my knee felt a little tweaked.
I had an excuse for any situation that could leave me feeling vulnerable… for a leak.
It wasn't until I was out to dinner with a couple of girlfriends that I realized just how common incontinence is for women. And that gave me the nerve to start looking for a solution.
And you know what…
We women aren't the only ones who are hiding our problems with leaking when we cough, sneeze or strain.
It happens to men, too. And they're at even higher risk if they've gone through treatments for something like prostate cancer. Your husband could be living with the issue right now, and you might not even know it.
In fact, a recent study from UT Southwestern researchers took a deeper look at exactly that issue, as well as ways men with stress incontinence can find relief.
Prostate surgery woes
A study, published in the journal Urology, dug deep into the cases of 572 men evaluated for anti-incontinence surgery over a ten-year timeframe.
And they discovered that men aren't good about seeking help for the issue either…
In fact, the average length of time the men had waited to seek treatment for their incontinence was 32 months. Almost a third even waited more than five years. Patients in their 80s had suffered for an even longer period of time — on average more than seven years!
Let's just put that into perspective for a moment.
Most men with stress incontinence wait well over two years before seeking help and almost 33 percent live with the condition for over five years first. And that's just for men below the age of 80.
Those numbers are staggering.
Help for male stress incontinence
But there is good news…
According to the researchers, there are simple and safe solutions to help men regain urinary control. These treatments can include:
Behavioral therapy
Biofeedback
Drug therapy
Exercise
In-office procedures
Incontinence surgery
And these are just the areas where a doctor can offer help — if men would just open up to them about the problem.
But men can also try these tips at home to help:
1. Lose any extra weight — Excess weight puts stress on the urinary tract and bladder and can increase the incidence of incontinence. Maintaining a healthy weight can help to alleviate these problems and give men back their control.
2. Avoid bladder-irritating foods — Certain foods can also stimulate incontinence issues due to the irritating effect they have on the bladder. Possible irritants include dairy products, tomatoes, citrus fruit and juices, spicy foods and carbonated beverages.
3. Stay bowel-healthy — Constipation, like excess weight, can increase stress on the bladder, so eating plenty of fiber and drinking at least 8 ounces of water per day can help to reduce incidences of leakage.
4. Support bladder health — Certain supplements are proven to strengthen bladder walls and calm an overactive bladder, including water-soluble pumpkin seed extract and soy germ isoflavones. These two nutrients work synergistically to support stronger bladder function and help urinary flow, voiding time and left-over urine volume in men with prostate concerns.
Women aren't the only ones who suffer from stress incontinence in silence. If you suspect your husband might be living with the condition, talk to him about it, consult a doctor, and have him try the tips above.