Benefits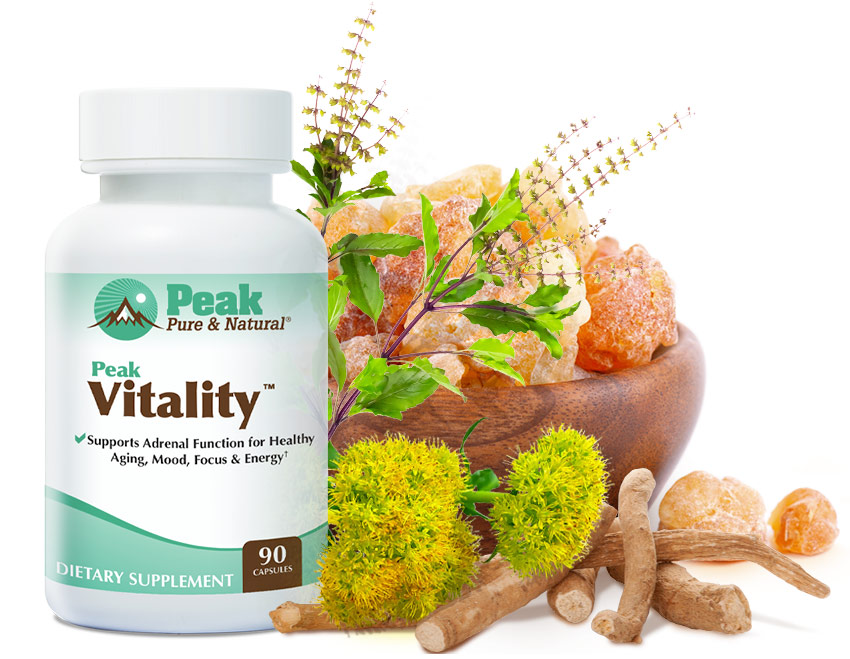 How Peak Vitality™ Supplement Helps
Your adrenal glands produce hormones that support essential functions, from metabolism to stress response. The problem is… modern living bombards us with one mental or physical stressor after another. So, our adrenals can become overworked — and ultimately, fatigued. When that happens, your quality of life takes a dive.
Peak Vitality™ formulated with nutrients that support adrenal gland function, to get to the root cause of problems with:
Weight

Energy and fatigue

Blood sugar

Blood pressure

Immune health

Mood swings

Stress

Cognition

Sleep

Aches and discomfort
Ingredients
What Are the Active Ingredients in Peak Vitality™ Supplement
In Peak Vitality™, you get five powerful nutrients that give your adrenal glands the support they need for optimal function.
Adrenal glands are easy to overlook. Few of us even think about them. But they're vital to your overall health and well-being.
From where they sit on top of your kidneys, your adrenals produce hormones that affect your metabolism, blood sugar regulation, blood pressure, and many other essential functions.
One of their most important duties is moderating your stress response — also known as your "flight-or-fight" response. The problem is… modern life constantly bombards us with one stressor after another — which makes your adrenal glands work overtime.
If left without support, your adrenals eventually become fatigued. And that's when you can experience problems with your blood sugar, blood pressure, moods, sleep quality, unwanted weight gain, energy levels and more.
That's why we formulated Peak Vitality™ with Boswellia, Holy Basil, Ashwagandha, Rhodiola, and L-Theanine. These nutrients are called "adaptogens" because of their special ability to help your body manage stress and restore balance.
Each nutrient could work well on its own to ease the load on your adrenals. But when combined, there's a synergy that happens… that makes them work even better and more powerfully to support adrenal gland function — and help you experience improved health and vitality.
Peak Vitality™ helps strengthen adrenal gland function for energy, hormone balance, mood and focus!
The Ingredients in Peak Vitality™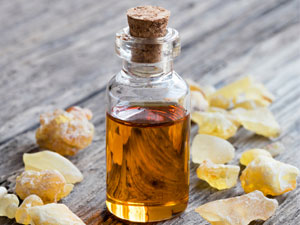 Boswellia
This African herb comes from the Boswellia tree and has been used to ease discomfort and pain related to many conditions for centuries in Africa and Asia. It was a treasured medicinal during biblical times, known then as frankincense.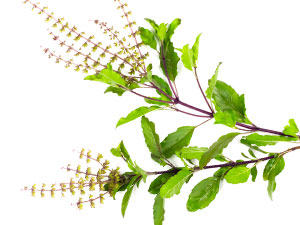 Holy Basil
Native to India, this flowering plant has been shown in studies to possess powerful anti-stress and mood-balancing properties. It's also been found to help support blood sugar and to help keep cortisol levels in check.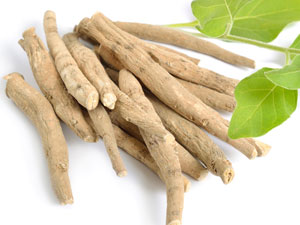 Ashwagandha
This is one of the most important herbs in Ayurveda, which is a natural form of medicine that started in India more than 3,000 years ago. Scientists have discovered that ashwagandha helps reduce stress and improve moods, boost libido, support healthy thyroid function, and reduce cortisol levels.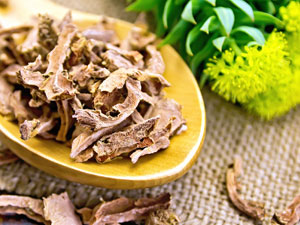 Rhodiola
This herb grows in the cold, mountainous regions of Europe and Asia and has been used by the people in Russia and Scandinavian countries to promote calm, ease tiredness, and boost moods. Studies show that rhodiola can help you cope better with stress, improve cognition, support blood sugar, balance your cortisol levels, and even boost fat loss.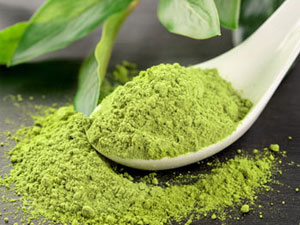 L-Theanine
This stress-relieving amino acid was discovered in tea leaves by Japanese scientists in 1949. Researchers have found that it can help improve sleep quality, promote calm, sharpen focus, and boost memory.
Label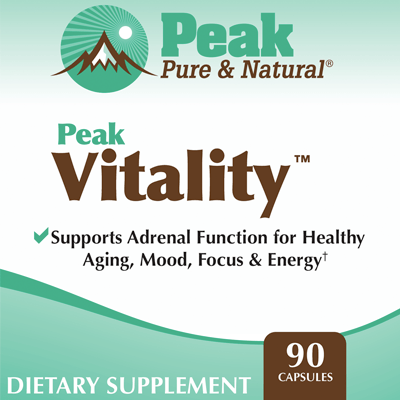 Supplement Facts
Serving Size: 3 Capsules
Servings Per Container: 30
| | | |
| --- | --- | --- |
| | Amount Per Serving | %DV |
| Boswellia serrata Extract (60% Boswellic Acids) | 600 mg | * |
| Holy Basil Powder (Ocimum sanctum) (Leaves) | 400 mg | * |
| Ashwagandha Root (Withania somnifera) | 300 mg | * |
| Rhodiola rosea Extract (3% Rosavins, 1% Saldiroside) | 250 mg | * |
| L-Theanine | 200 mg | * |
*Daily Value (DV) not established.
Other Ingredients: Vegetable Capsule, Rice Concentrate (Nu-Flow®), Ascorbyl Palmitate, Silica.
Ribus, Inc is the owner of the registered trademark Nu-Flow®

Suggested Use: Adults take three (3) capsules daily with water, preferably with a meal, as a dietary supplement, or as directed by a healthcare practitioner.
Warnings: KEEP OUT OF REACH OF CHILDREN.
Do not exceed recommended dose.
Do not use if clear neck seal is broken or missing.
If you are nursing, pregnant, taking medication or have a medical condition, consult your physician before taking this product.
Store at room temperature, in a dry place.
†This statement has not been evaluated by the Food and Drug Administration. This product is not intended to diagnose, treat, cure or prevent any disease.
Manufactured for: Peak Pure & Natural®
P.O. Box 24638
West Palm Beach, FL 33416
1-866-773-6899
www.PeakNatural.com
PPN00172
The ingredients in Peak Pure & Natural® product formulations — as well as the amount of the ingredients used — are based on the following criteria:
Maximum Safety, Efficacy, Quality, Purity and Benefit
Many supplement manufacturers formulate products that only contain the minimum approved amount of any ingredient needed to qualify. Our products are different.
We provide the amount that research shows will provide optimal efficacy while remaining in safe, approved limits. Those other manufacturers are hoping you won't look too closely at their product labels to see you're paying a maximum price for the minimum benefit.
We also take into consideration the synergy between ingredients and how they affect each other when choosing how much to use in a product formulation, as well as the serving recommendations.
You can also feel confident that we go to great lengths to ensure quality, purity and your satisfaction in every product we offer so you can stay in Peak health.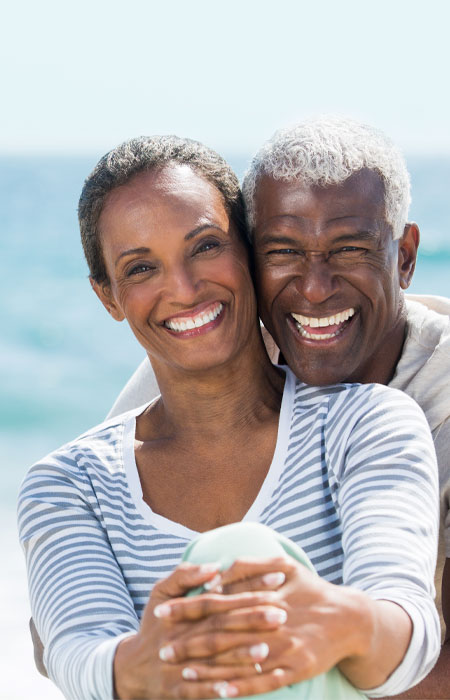 The Peak of Transparency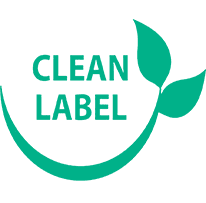 Clean Label: Product is manufactured without silicon dioxide, magnesium stearate and other synthetic fillers commonly used in the manufacture of nutritional supplements.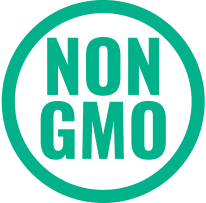 NON GMO: Ingredients are from non-GMO sources.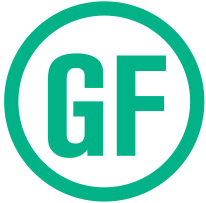 Gluten Free: Ingredients are free of gluten and manufactured in an environment free of gluten; eliminating the risk of contamination.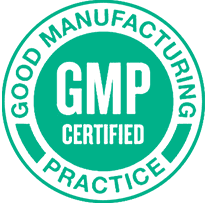 GMP Certified: Manufactured in a facility in accordance with Good Manufacturing Practices.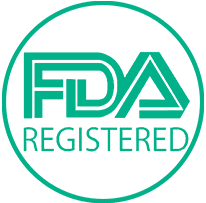 FDA Registered: Manufactured in an FDA Registered facility.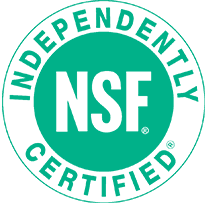 NSF Certified: Manufactured in a facility independently inspected for adherence with standards for safety, quality and performance standards as developed by NSF International.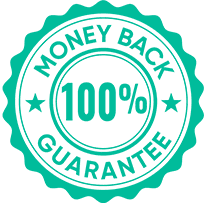 100% Guaranteed: Your purchase is protected by our 100% Money Back Lifetime Guarantee!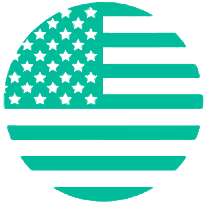 Manufactured in USA: With quality ingredients from around the world.
Free of Major Allergens: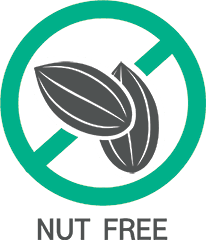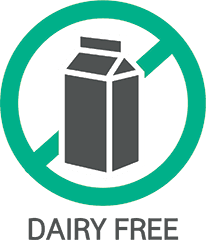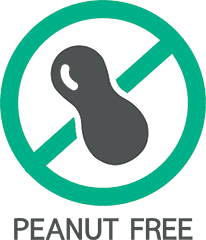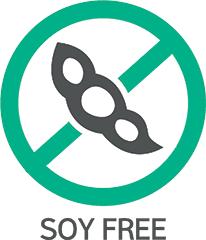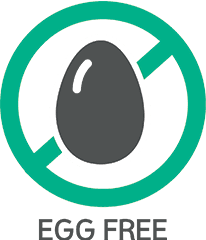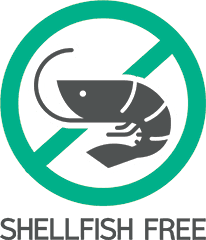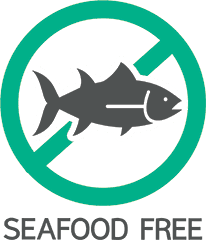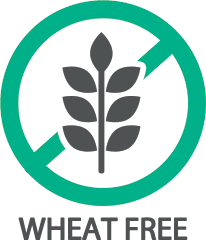 How-to-use
How to Use Peak Vitality™
For maximum benefit from your supplement:

Take Peak Vitality™ daily
The serving recommendation for Peak Vitality™ is three (3) capsules daily with water, preferably with a meal. As with most supplements, if you stop taking Peak Vitality™ any improvements will likely revert.

Take Peak Vitality™ with meals
It's recommended that Peak Vitality™ be taken with meals.
Promotes normal, healthy weight

Improves energy levels

Supports balanced blood sugar

Promotes healthy blood pressure

Enhances immune health

Lifts moods and promotes calm

Promotes healthy reaction to stress

Protects and improves cognition

Relieves annoying aches

Promotes restful sleep
FAQ
FAQ (Frequently Asked Questions)
The five active ingredients in Peak Vitality™ work synergistically to support healthy adrenal gland function.
When the adrenal glands are fatigued by chronic stress, they don't function optimally. Each ingredient has adaptogenic properties to support a healthy and balanced response.
Some people will notice positive results with their first dose, with full benefits after a few weeks of starting Peak Vitality™. However, "every body" is different, therefore we recommend you give your supplements time to work. For best results, take 3 capsules daily for at least 90 to 120 days to see maximum benefit. Individual results may vary.
This supplement can be taken at any time of day, preferably with meals.
It's recommended to take 3 capsules daily — preferably with meals.
A pharmacist or medical professional can advise you if you have any concerns with any other medications you are taking.
We do not recommend you stop taking any medication you have been prescribed without first talking to your doctor.
If you are pregnant or nursing or have a special condition, consult your physician before taking this supplement.
All Peak Pure & Natural® products are 100% manufactured in the United States of America with quality ingredients sourced globally.
All raw materials are purchased from qualified vendors who have been approved and audited by our manufacturing partners' Quality Assurance team. Each raw material is tested for identity and purity to ensure we are using only the highest quality ingredients for our products. You can feel confident that what you see on the label is exactly what's in the bottle.
In addition, we only manufacture in FDA Registered and Inspected Facilities that are NSF® Certified, which means each facility is regularly and independently inspected by NSF® International to ensure all FDA cGMP requirements are met on a continuous basis.
It is not recommended unless you are advised to by your physician.
This product is free of milk, eggs, fish, shellfish, tree nuts, peanuts and wheat.
This product is 100% Vegan. This product is Vegan compliant concerning both its active and inactive ingredients.
Supplements should be stored in a cool, dry location.
This product is designed for adult humans.
Reviews
Peak Vitality Delivers
Definitely notice a difference for the better. It's worth the money!
Sleeping Like a Baby!
So far I have found that I am sleeping better – falling asleep quicker and sleeping more deeply. I have also noticed that I am more calm.
Peak Vitality Helps Me Get Moving!
I am able to look forward to getting out of bed. Because I am assured I will have energy to get something accomplished. Everyone should give it a faithful 3 month try – it is amazing!
Improved Moods!
I would say I have a difference in my mood swings. I feel a difference if I miss taking them.
Feel Better Fast!
Most of the things I try I don't really see a difference. But taking Peak Vitality, I could see a difference in feeling better after only a few days! Thanks.
For Me It's Personal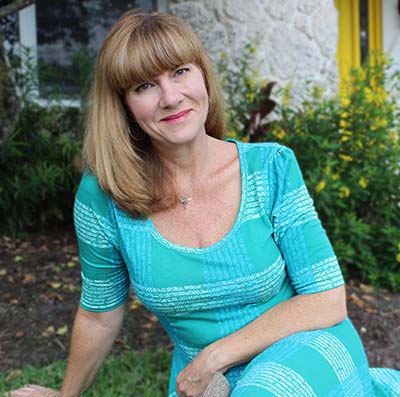 I'm Virginia Tims-Lawson, founder of Peak Pure & Natural®. Natural health research and nutritional supplements are my passion. As are maintaining a healthy and active lifestyle well into my senior years. And because you're here, I bet you have the same goal.
At Peak Pure & Natural®, our approach to supplement formulation is different from our competitors. Simply put, you won't find any "fairy dust" formulas here. We believe nutritional supplements that contain every ingredient, but the kitchen sink is a waste of your hard-earned money … because there is not enough of any one ingredient to do the job it promises.
That's why we've developed Peak Vitality™ with only the highest quality and most efficacious ingredients demonstrated to best support your adrenal gland health. That means you get a formula with the right ingredients in the right amounts that work so can enjoy all the health benefits we promise.
We also believe you must give Peak Vitality™ time to work. That's why we offer multi-bottle discounts on our Peak Vitality™ supplement. And free shipping anywhere in the U.S. when you order 3 or more bottles.
And I personally stand behind our Peak Vitality™ supplement with Virginia's "Lifetime" Money-back Guarantee of Satisfaction. It's the best in the business and here's how it works: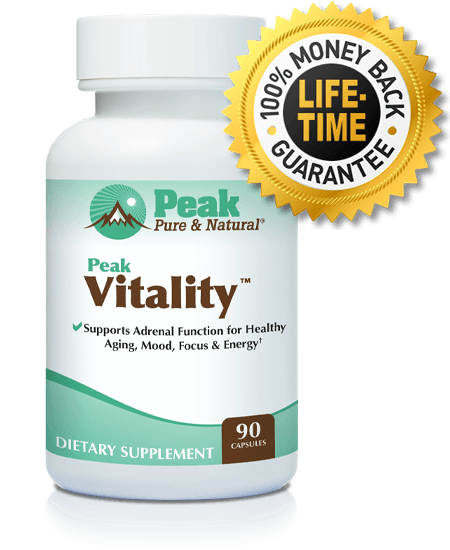 Our 100% Lifetime Guarantee of Satisfaction
Get Peak Vitality™ exclusively from Peak Pure & Natural®!
Try Peak Vitality™ today and help provide your adrenal function with nutrition support for healthy aging, mood, focus and energy!
Your purchase is Risk-Free because you're covered by my 100% lifetime guarantee of satisfaction: If at any time 1 month, 1 year or even 10 years from now you aren't completely satisfied with your purchase, just send back the Peak Vitality™ bottle(s) — full, open or even empty and we'll refund 100% of your purchase price.
Feel confident giving Peak Vitality™ a good try because you have a lifetime to decide if it's working for you, no kidding!

Peak Vitality™ pairs well with Peak Thyroid Support™
Chronic stress doesn't only throw your adrenal glands out of whack. It does a number on your thyroid as well.
Like the adrenals, your thyroid produces hormones that regulate your heart, brain, lungs, liver, kidneys, muscles and every other organ and tissue in the body. However, to do all that, it needs iodine. And as we age, it gets harder for the body to metabolize iodine — especially when toxins like mercury from fish, trans fatty acids and common chemicals, like fluoride, make it even harder for the body to properly use iodine.
Peak Thyroid Support™ provides iodine and other targeted nutrients to support healthy thyroid function — no matter how much stress life tosses at you. And that can help boost your metabolism, sex drive, mental sharpness, moods, and more.
That's why Peak Thyroid Support™ is the perfect companion supplement to Peak Vitality™.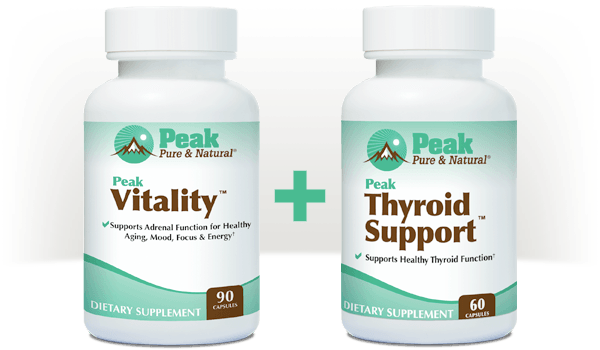 Commitment to Customer Satisfaction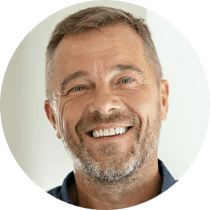 Can't praise you enough!
"Hi Virginia, I can't praise your company enough. You and your people have better service than any company I've dealt with."
— Daniel S.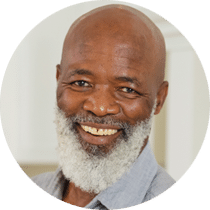 My favorite!
"I do not take any drugs, but I do take many supplements. Your Peak products are some of my favorites and I really enjoy reading all your promo booklets. I have purchased nearly all of the Peak products and take at least 5 or 6 different ones every day. Also, I like the well-sealed bottles. "
— G.W. L., Vicksburg, MS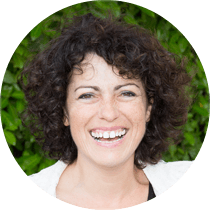 Recommend Your Products!
"I wanted to let you know how much we enjoy your products. Really wonderful and we are big fans. We proudly recommend your products to our huge network of family and friends. Please add me to your mailing list."
— Susan S., OH
Products related to this item