Benefits
How Peak ResV+™ Supplement Helps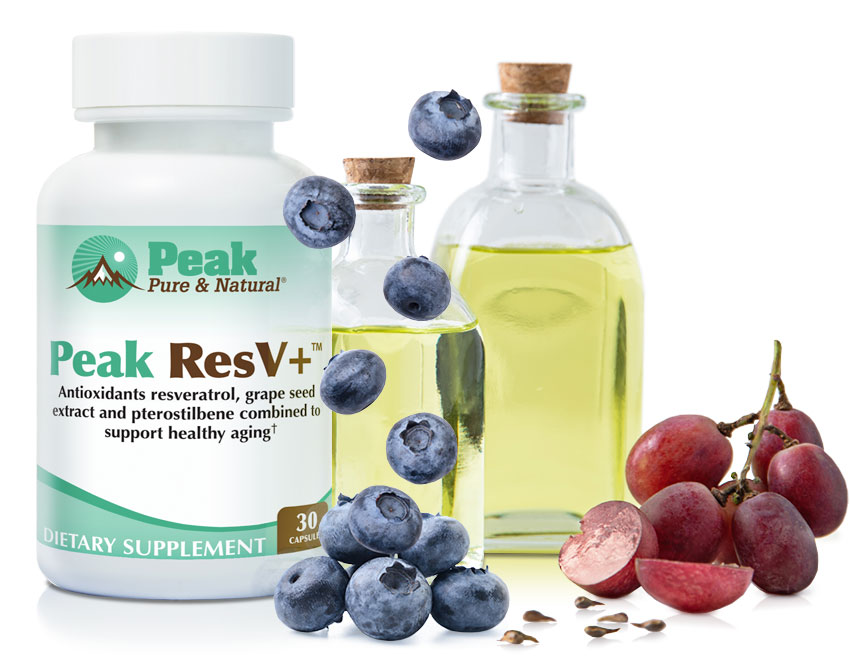 Why do we age? One strong explanation is free radicals. Free radicals are produced by your body's own processes and by elements in the environment that prematurely damage cells — and age us before our time.
Peak ResV+™ harnesses the power of antioxidants — including Resveratrol, the most studied in aging research, plus Grape Seed Extract and Pterostilbene — for a trio that supports:

Protection from Free Radicals

Energy Levels
Heart Health

Circulation

Immune Health

Brain Health

Inflammatory Health

Blood Sugar
Joint Health

Memory and Brain Health

Blood Pressure
A Healthy Weight
Ingredients
Why do we age? Researchers have an abundance of theories. One that is well researched is that chemical reactions in the body damage cells, causing them to be unhealthy.
Free radicals produced by the body's own processes and by elements in the environment can prematurely damage cells and age us.
It's possible to protect against free radicals, address "old age" health concerns and promote healthy aging with the help of antioxidants.
Antioxidants can provide free radical protection and help minimize damage to cells that can cause premature aging of the skin, the brain, the heart and vascular system and help to keep them in good health.
Peak ResV+™ provides a trio of nutrients, known through extensive research to contain potent antioxidants and more:
Resveratrol — Researched for its ability to help protect against free radicals, resveratrol single-handedly propelled anti-aging research into the spotlight when it was found to activate "SIR2" — the survival gene responsible for promoting DNA repair, healthy cell activity and longer cell life. Found in the skin of red grapes, resveratrol is a phenolic compound that exerts the antioxidant and anti-inflammatory activities attributed to the "French Paradox."
Pterostilbene — Found in the skin of red grapes and also berries, pterostilbene is a "sister nutrient" to resveratrol. A powerful antioxidant in its own right — it works synergistically with resveratrol to enhance the bioavailability of numerous beneficial compounds that provide protection from free radical-caused oxidation (cell rust) while also helping to support healthy circulation and immune health.
Grape Seed Extract — A potent source of antioxidants, grape seed extract utilizes the power of heart-healthy polyphenols to upregulate nitric oxide production (N-O). N-O is a messenger molecule that, when present in the inner lining of blood vessels, causes the surrounding smooth muscle to relax, promoting healthy blood flow and circulation. Studies show that polyphenols are 20 times more powerful than vitamin E and 50 times greater than vitamin C.
Peak ResV+™ works to protect against free radicals and help support skin, immune system, brain and heart health — for healthy aging, naturally!
The Active Ingredients in Peak ResV+™
Resveratrol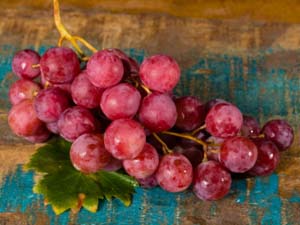 The antioxidant that spearheaded research into aging, resveratrol is found in the skin of red grapes. It can help support cardiovascular health, blood vessels, cholesterol and blood flow. Plus, resveratrol helps promote the health of the immune system, memory and blood sugar.
Grape Seed Extract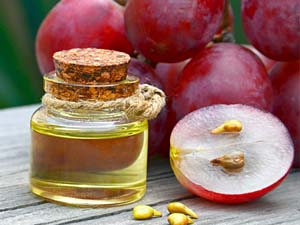 A potent source of antioxidants, grape seed extract contains an arsenal of beneficial compounds including polyphenols, anthocyanins, flavonoids and proanthocyanin complexes that guard against oxidation to help maintain the health of cells and tissue. Grape seed extract promotes the body's natural production of nitric oxide. Nitric oxide helps support healthy blood flow.
Pterostilbene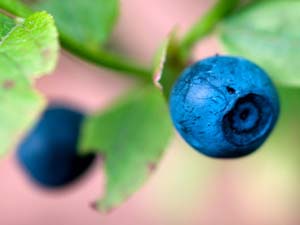 An antioxidant found in red grapes and blueberries, pterostilbene comes from the same family of stilbene compounds as resveratrol. Pterostilbene has greater bioavailability (more easily absorbed and used in the body) compared to other stilbene compounds and supports healthy circulation.
Label
Supplement Facts
Serving Size: 1 Capsule
Servings Per Container: 30
| | | |
| --- | --- | --- |
| | Amount Per Serving | %DV |
| Trans-Resveratrol (Polygonum cuspidatum) | 100 mg | * |
| Grape Seed Extract (Vitus vinefera) (Standardized to 95% Polyphenols) | 100 mg | * |
| Pterostilbene | 50 mg | * |
*Daily Value (DV) not established.
Other Ingredients: Rice Bran Extract, Vegetable Capsule, L-Leucine, Silica.
Reducol® is a registered trademark of Pharmachem Laboratories, Inc.
Suggested Use: Adults take one (1) capsule with water daily, preferably with a meal, or as directed by a healthcare practitioner.
Warnings: KEEP OUT OF REACH OF CHILDREN.
Do not exceed recommended dose.
Do not use if clear neck seal is broken or missing.
If you are nursing, pregnant, taking medication or have a medical condition, consult your physician before taking this product.
Store at room temperature, in a dry place.
†This statement has not been evaluated by the Food and Drug Administration. This product is not intended to diagnose, treat, cure or prevent any disease.
Manufactured for: Peak Pure & Natural®
P.O. Box 24638
West Palm Beach, FL 33416
1-866-773-6899
www.PeakNatural.com
PPN00320
Both the ingredients as well as the amount of any ingredient used in Peak Pure & Natural® product formulations are chosen based on the following criteria:
Maximum Safety, Efficacy, Quality, Purity and Benefit
Many supplement manufacturers formulate products that only contain the minimum approved amount of any ingredient needed to qualify. Our products are different.
We provide the amount that research shows will provide optimal efficacy while remaining in safe, approved limits. Those other manufacturers are hoping you won't look too closely at their product labels to see you're paying a maximum price for the minimum benefit.
We also take into consideration the synergy between ingredients and how they affect each other when choosing how much to use in a product formulation, as well as the serving recommendations.
You can also feel confident that we go to great lengths to ensure quality, purity and your satisfaction in every product we offer so you can stay in Peak health.
The Peak of Transparency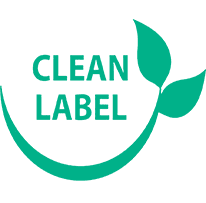 Clean Label: Product is manufactured without silicon dioxide, magnesium stearate and other synthetic fillers commonly used in the manufacture of nutritional supplements.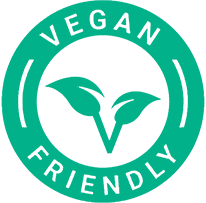 Vegan Friendly: This product is 100% plant based. Both its active and inactive ingredients are Vegan.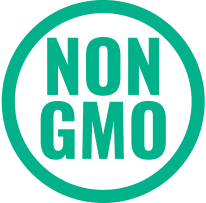 NON GMO: Ingredients are from non-GMO sources.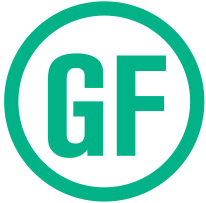 Gluten Free (GF): Ingredients are free of gluten and manufactured in an environment free of gluten; eliminating the risk of contamination.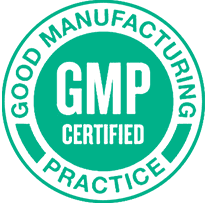 GMP Certified: Manufactured in a facility in accordance with Good Manufacturing Practices.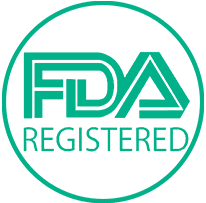 FDA Registered: Manufactured in an FDA Registered facility.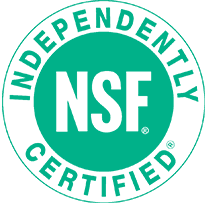 NSF Certified: Manufactured in a facility independently inspected for adherence with standards for safety, quality and performance standards as developed by NSF International.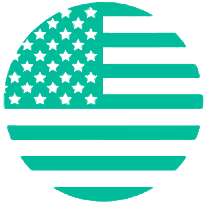 Manufactured in USA: With quality ingredients from around the world.
This product is free of these common allergens: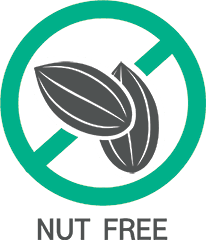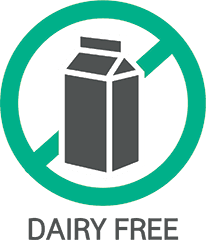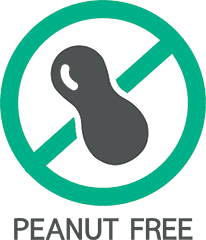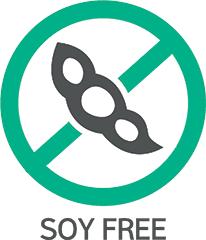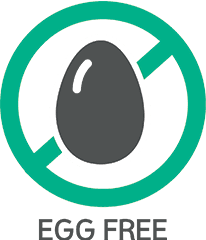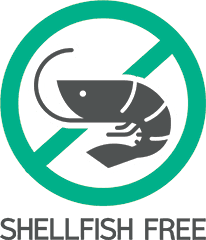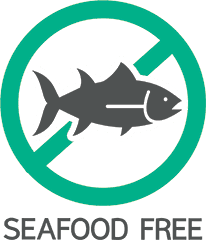 How-to-use
How to Use Peak ResV+™
For maximum benefit from your supplement:

Take Peak ResV+™ daily
The serving recommendation for Peak ResV+™ is one (1) capsule daily with water, preferably with a meal. As with most supplements, if you stop taking Peak ResV+™ any improvements will likely revert.

Take Peak ResV+™ with a meal
It's recommended to take your daily serving of Peak ResV+™ with a meal.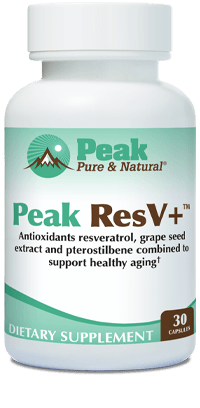 Optimize Free Radical Protection

Improve Energy Levels
Support Heart Health

Support Circulation

Support Immune Health

Support Brain Health

Reduce Inflammation

Support Healthy Blood Sugar
Support Joint Health

Enhance Memory Support

Support Blood Pressure
Improve Weight Management
FAQ
FAQ (Frequently Asked Questions)
Antioxidants work to protect against free radicals and help minimize cell damage that can accelerate aging and the problems that come with it. The three active ingredients in Peak ResV+™ are all potent natural sources of antioxidants, including resveratrol — one of the most scientifically backed antioxidants in aging research.
Some people will notice positive results in as little as a few weeks of starting Peak ResV+™. However, "every body" is different, therefore we recommend you give your supplements time to work. For best results, take one capsules daily for at least 90 to 120 days to see maximum benefit. Individual results may vary.
This supplement can be taken at any time of day, preferably with a meal.
It's recommended to take one serving daily. One serving is one (1) capsule daily, preferably with a meal.
A pharmacist or medical professional can advise you if you have any concerns with any other medications you are taking.
We do not recommend you stop taking any medication you have been prescribed without first talking to your doctor.
If you are pregnant or nursing or have a special condition, consult your physician before taking this supplement.
All Peak Pure & Natural products are 100% manufactured in the United States of America with quality ingredients sourced globally.
All raw materials are purchased from qualified vendors who have been approved and audited by our manufacturing partners' Quality Assurance team. Each raw material is tested for identity and purity to ensure we are using only the highest quality ingredients for our products. You can feel confident that what you see on the label is exactly what's in the bottle.
In addition, we only manufacture in FDA Registered and Inspected Facilities that are NSF® Certified, which means each facility is regularly and independently inspected by NSF® International to ensure all FDA cGMP requirements are met on a continuous basis.
This product is free of soy, milk, eggs, fish, shellfish, tree nuts, peanuts and wheat.
The active and inactive ingredients in Peak ResV+™ are plant-based. Not only are the capsules vegetarian, each ingredient used in the formula is 100% vegan as well.
Supplements should be stored in a cool, dry location.
This product is designed for adult humans.
For Me It's Personal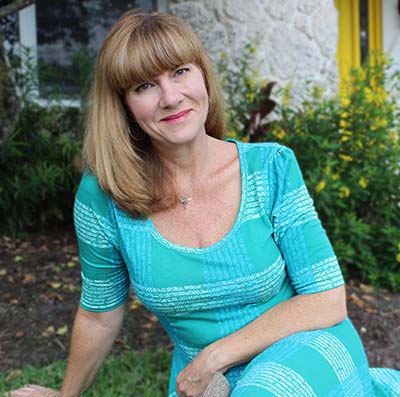 I'm Virginia Tims-Lawson, founder of Peak Pure & Natural. Natural health research and nutritional supplements are my passion. As are maintaining a healthy and active lifestyle well into my senior years. And because you're here, I bet you have the same goal.
At Peak Pure & Natural, our approach to supplement formulation is different from our competitors. Simply put, you won't find any "fairy dust" formulas here. We believe nutritional supplements that contain every ingredient, but the kitchen sink is a waste of your hard-earned money … because there is not enough of any one ingredient to do the job it promises.
That's why we've developed Peak ResV+™ with only the highest quality and most efficacious ingredients demonstrated to best support healthy aging. That means you get a formula with the right ingredients in the right amounts that work so can enjoy all the health benefits we promise.
We also believe you must give Peak ResV+™ time to work. That's why we offer multi-bottle discounts on our Peak ResV+™ supplement. And free shipping anywhere in the U.S. when you order 3 or more bottles.
And I personally stand behind our Peak ResV+™ supplement with Virginia's "Lifetime" Money-back Guarantee of Satisfaction. It's the best in the business and here's how it works: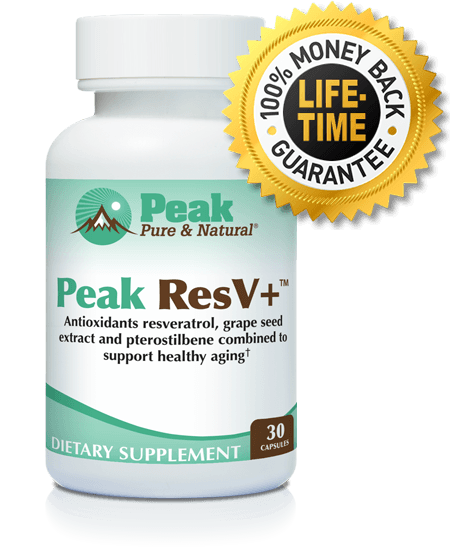 Our 100% Lifetime Guarantee of Satisfaction
Get Peak ResV+™ exclusively from Peak Pure & Natural®!
Try Peak ResV+™ today and help give your body the optimal nutrients you need for healthy aging!
Your purchase is Risk-Free because you're covered by my 100% lifetime guarantee of satisfaction: If at any time 1 month, 1 year or even 10 years from now you aren't completely satisfied with your purchase, just send back the Peak ResV+™ bottle(s) — full, open or even empty and we'll refund 100% of your purchase price.
Feel confident giving Peak ResV+™ a good try because you have a lifetime to decide if it's working for you, no kidding!

Peak ResV+™ pairs well with Peak Longevity Platinum™
Resveratrol has decades of research that support the healthy aging properties of antioxidants.
But to win the longevity game, experts say the focus should also include the mitochondria — the tiny powerplants that power up every cell in the body. Mitochondria wear out with age, which leaves cells unable to create the energy they need to function properly.
That's where Peak Longevity Platinum™ can help — with three proven ingredients that support high cellular energy levels for healthy aging and youthful energy…
Pyrroloquinoline quinone (PQQ) — The breakthrough nutrient helps boost the health of the mitochondria for more energy output to support a healthy heart, brain, immune system and youthful energy.
Kaneka QH™ High Potency CoQ10 — A highly absorbable, stabilized form of CoQ10 that supports healthy aging. Unlike other CoQ10 supplements, it's protected from oxidation and crystallization superior bioavailability.
Shilajit — An ancient Himalayan nutrient that extends CoQ10's and PQQ's energy-generating efforts. It revitalizes CoQ10 molecules and boosts the body's ability to recycle them, all the while providing over 85 minerals and trace elements your body needs for healthy cellular function.
Together Peak ResV+™ and Peak Longevity Platinum™ support healthy aging and longevity, naturally!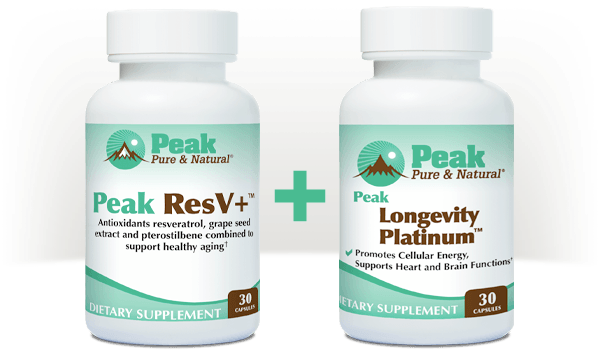 Commitment to Customer Satisfaction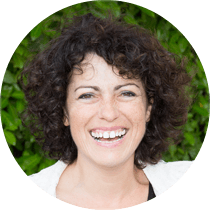 Recommend Your Products!
"I wanted to let you know how much we enjoy your products. Really wonderful and we are big fans. We proudly recommend your products to our huge network of family and friends. Please add me to your mailing list."
— Susan S., OH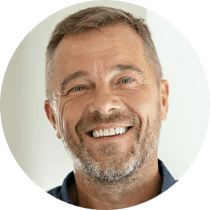 Can't praise you enough!
"Hi Virginia, I can't praise your company enough. You and your people have better service than any company I've dealt with."
— Daniel S.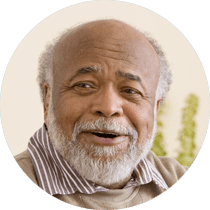 Lives up to your claims!
"Dear Virginia, I plan to live to 120 with your help!"
— James W.
Products related to this item